Start An Interior Design Business
Maybe you thought that starting your design business sounded like a pipe dream a few years ago.
Oh yeah. Like I can just start a design business? Yeah, sure.
You have my permission to go for it. Right now!
You're either going to start an interior design business where you offer products or offer services. Maybe a combination of both. And maybe it will be entirely online, or you'll choose to also work with local clients.
No matter what you sell it and how you deliver it - you should always be selling a SOLUTION. If you don't understand what problem your business solves, you will have a tough time trying to sell your stuff. Which is what marketing is all about.
The solution could be as simple as paint colors for a home. Or an inspiration board and shopping list for sprucing up a tired space. Or a room review to give your clients the top items they can change in their home today.
Or maybe it's a bit more complicated. Perhaps you create design plans that transform a house from fugly to fabulous. Or you plan and execute your client's entire home, including changing the energy in the space from negative to positive. Or you help someone take their vacation rental from empty to booked out.
Whatever your business offers in exchange for cold, hard cash, you must realize what your unique solution is and more importantly, WHO needs your help. That answer is not everyone, which we will touch on shortly.
Beyond your ideal client, we need to talk about your brand because THAT is what is going to keep your business growing for years to come. Let's go!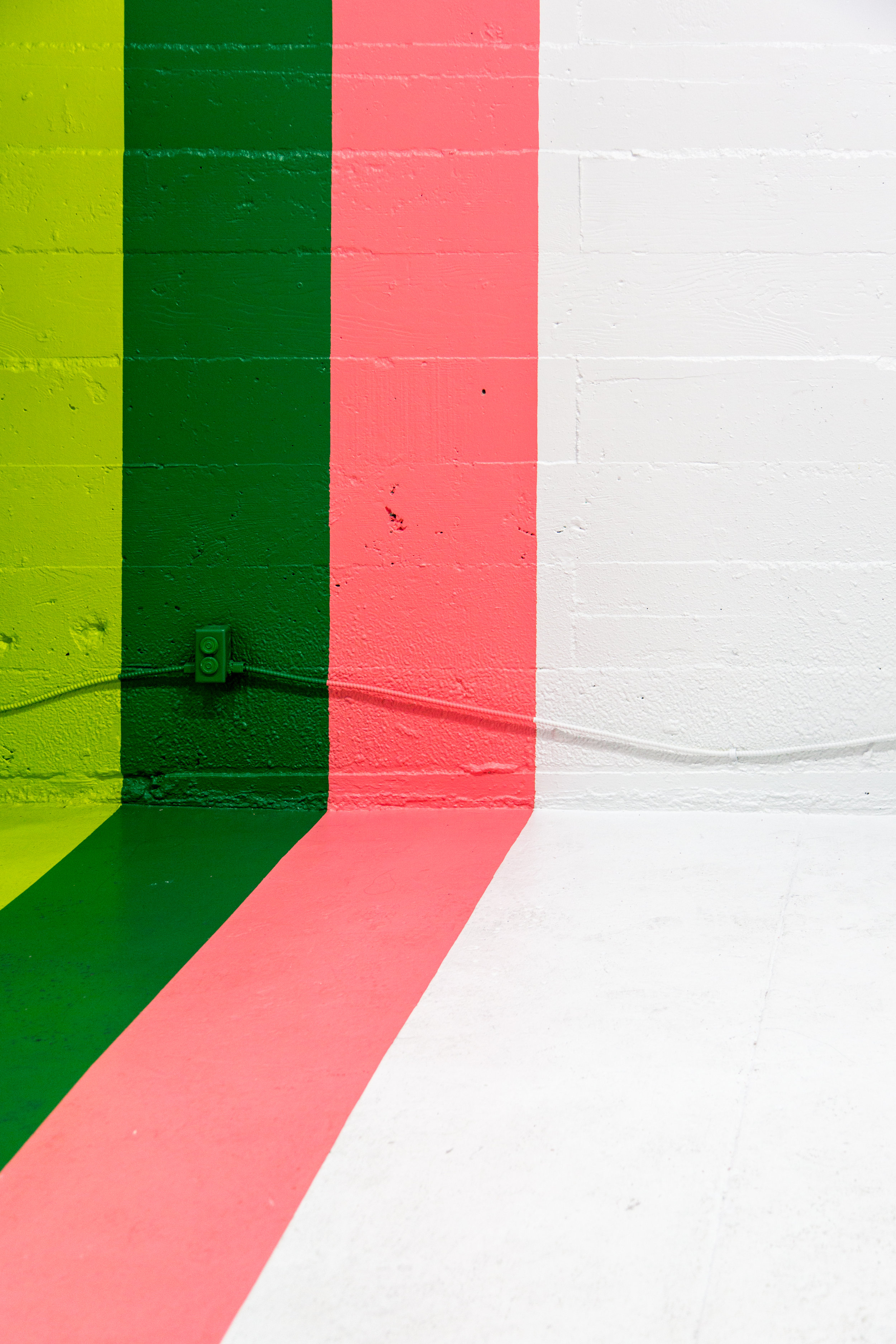 Defining Your Brand
Listen up, my love. YOU are your brand. Every carefully chosen piece of your business puzzle is part of your brand. When you write the copy to put on your website or select the colors on your 'Thank You' cards, you are making choices that create your unique, specific flavor – the brand of you. A brand is a promise of an experience and that, more than anything else, is what most clients are buying from you.
Yes, they want a beautiful home, too. But the most significant factor in choosing who they want to work with is first based on YOU and how you present your personality to them online. Then they buy a solution, not a service.
Please, please, please be yourself when you start your interior design business.
Clients like to get a sense of who you are really on your website and through your social media platforms. Clients won't hire you if you project that you are better than them.
I can't begin to tell you how many clients said to me that they had worked with another designer and chose not to work with them again because of the "snob" vibe they got.
Just be you.
If you like something (even if you think it may be "uncool") share it with your audience on social media or your blog no matter if you think someone won't like it. You are going to attract what you project.
So what's the difference between that identity-crisis brand and the sticky sweet brand that every business wants? A captivating brand has an identity, a message, and a budget for professional help. Not Courtney Love professional help, but that other kind of professional help.
So what does that mean for you?
If you don't have an interior design brand identity to grab your dream clients attention, you're gonna find it extremely hard to stake your place as the go-to designer.
Branding is where the visual parts of your business and the message part of your business merge to create the promise of an experience that your client will have with you.
• Brand = Promise of the experience of working with you.
• Identity = How you visually show up online.
• Logo = Simplest way to identify your company online.
• Website = Your online space to connect with dream clients.
Once you know where you fit into the categories, it becomes easier to figure out what pieces are missing from your brand.
Now, onto the straight dope. By dope, I don't mean drugs. Drugs are bad.
Your brand is supposed to be a natural extension of you, so it is vitally important that you represent what that client experience of working with you will be with your online space.
When your online presence isn't consistent all over, you don't gain traction, and your brand is dust in the wind. Subject to whichever the way the wind blows.
Your interior design brand identity needs to start with YOU.
The days of being pushy are gone, and the days of being captivating are here to stay. Be the straight-talking designer who is the person your clients want to get to know better.
Picking Your Niche
I don't know exactly when it happened, but I got tired of every guru in the world telling me that I had to pick a niche and stick to it. It took years for me to understand it, and when that light bulb finally turned on, I realized why.
You may want to be known as the Jill-of-All-Trades interior decorator creating every beautiful room known to man, woman, and child or the stylist for everyone from Great Aunt Irene to Mittens, the lazy cat, but I'm telling you now – DON'T. Pick ONE laser focused area to work in – or if you can't get it down to one, get it as close as possible.
While you might think you're shutting off the pipeline of clients by being super specific and picking a niche market for your interior design business, you're not. There are plenty of peeps who want to work with a specialist. Like, if you need a heart bypass are you gonna go to a podiatrist? Like, no. Unless you want to die.
This is all going to help you out at the beginning of your design business. You can expand later, but when you are starting, you will have lots of other tasks to take care of, and if you pick too many specialties, you're going to want to shoot yourself simply because you will not have the bandwidth to actively market all of them.
You and I both know that when you're starting an interior design business, you could design an impressive master bedroom and an excellent kitchen. But we also know that they aren't really that similar.
If you get a client online who wants help with a complete kitchen remodel, including cabinets, are you prepared for all of that?
The best way to have lots of clients lining up to have you design for them is to pick something and be effing fantastic at it.
So, let's narrow it down… look at the design services you want to offer.
Make a list of the services that make you the most money. Now create a list of services you love performing the most. The items that are on both lists are the ones you should keep.
Brainstorm 10 ideas. Then narrow it down to the top 3 that you would like to offer based on the tools and software you have available to you to offer those.
Your niche could be a type of design style, or who you work with like home-based entrepreneurs.
• Vocation: Residential Interior Design
Niche: Vintage Interior Design

Niche: Paint Color Specialist

Niche: Home Offices For Entrepreneurs
How to Identify & Find Your Perfect Clients
Define who you actually want to work with first, so you aren't a desperate little entrepreneur.
You don't need to have people taking advantage of you and without a clear vision and no-nonsense policies they will. People will want you to reduce your fees. People will want you to give them a custom service for the price of a consultation. Don't do it. Figure out now who you want to work with and stick to it.
And the answer to who you want to work with isn't a 32-year-old mother living in St. Louis.
The real key to selling your stuff is knowing deep down who this person is and what they worry about when it's 2 am. It's called a niche and the reason why knowing what your niche is fundamental… because when you know the conversation, your client is already having inside their head; you can jump into that conversation and make the sale easily.
If you can't figure out who your ideal client is our figure out what that problem conversation, they are replaying in their head on the daily is… then you need to do some research and figure it out. This is a BIG one you must tackle. I've watched businesses try to wing it for a while. They don't want to do this hard work, and you know what happens? Their business fails because they don't know what the purpose of their business is, who needs their help and why.
My course Astro Brand Alchemy will help you to identify who your ideal client is so you can market to them effectively and craft a brand that speaks right to their heart.
Income Goals
When it comes to starting your interior design business, and not starting an expensive hobby, you need to figure out what you want to offer, how long it will take you to deliver it and how it fits into your income goals.
Let me get this out of the way. Do not target a "price shopper" client. They have zero loyalty, are the biggest pains in the ass, and when they find a lower price, they will dump you in a hot minute.
I have always charged a flat fee for my design services online. If you are looking to get a really good overview on flat fees check out Value Based Fees Book by Alan Weiss.
Clients want to know how much it will cost. Total. No extras or hidden fees later. They hate seeing a bill come to them then and will not buy anything from you if they do not know the costs of your entire design service or think there is a surprise coming down the road later.
So, flat fees always, but that isn't to say you should shortchange yourself. Be honest with yourself in terms of hours and your expertise. If you are fast and good, you can charge a premium. If you are a beginner, you can't charge as much. And you certainly can't charge your clients for the time it takes you to learn how to do things, either.
Lastly, you need to add in a buffer. Either your client will need hand holding or is a pain in the arse, or some issue came up you couldn't foresee. So you need to cover your extra time. If it gets out of hand, stop it and let the clients know nicely. You must be in control at all times with your time during a project.
When it comes to the actual pricing of services and the "competition." First, let's vow not to worry about the competition. You will not be them, and they will never be you. Deal?
Now, I'm sure you want to know what they are charging and offering. Let me save you some time and unnecessary comparing of yourself, okay?
First, they are not you. You have your own design style that no one else could ever copy or mimic you without it looking like a total knockoff.
Second, remember you are the brand and more than just your design work, clients are buying YOU. Really, darling, they are. So be the best and brightest design star that you can be.
With that being said, every company is different, and what they offer will be unique to them, their skillset, and income goals.
Don't start off super cheap because when you go to raise your prices in the range of average designer fees (because you are starting to feel like a cheap hussy), you'll lose the clientele you were attracting when you first started off. It's easier to come down than to go up.
However, that doesn't mean you should turn into the instant discount queen if the business isn't coming in like gangbusters when you first start.
So maybe you just need to answer this question… What fee per package would make you happy? No, really. Answer it. If you choose a number and you don't feel good about it, you won't be able to sell that price to your client.
And while you mull that over you could also start thinking about what you want to offer to get that fee.
At the same time, answer these questions:
What's your yearly income goal?

Divide your yearly income goal down by 12 to discover your monthly income goal.

How many hours do you have available to work on client projects each month?

Divide your monthly hours available to work on projects by 4 to discover how many hours per week you have to design.

Divide your hours per week available to work by the hours it takes you to complete the design service here. How many design clients do you want to work with every month?
When you understand the numbers, you take the emotion out of the "money number" and realize this is about business, the job you need to do so you can continue to be in business and help other people. You're not running a charity.
Now, on to building your online hot spot aka your interior design website!
Learn All About Starting Your Interior Design Business
Are you ready to dive in and skip the endless hours of googling? I'm here to help you cut out all of the confusion when it comes to starting and growing your interior design business with tons of on-demand courses, checklists and other valuable resources inside the Society.